New Year's Day is coming in 2019. On the occasion of the old and new, the calendar of our lives has turned a new page. Say goodbye to 2018, the first color to send you a good blessing in 2019! May you hold peace, embrace health, happiness, happiness, enthusiasm, sweetness, good fortune, and good fortune, and enter into 2019.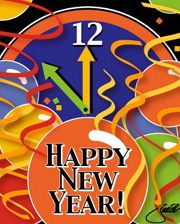 In order to let the employees have a happy holiday in the pig year, according to the State Council holiday arrangement notice, combined with the company's actual situation, the company's leadership research decision, the company's New Year's Day holiday arrangements are now notified as follows:

1. Company holiday time: December 30, 31, January 1, 2019;
2. During the company holiday: customers who need to visit and proof the factory, please contact us in time!
On the occasion of New Year's Day, I would like to congratulate all new and old customers and friends for their happy holidays! Happy holiday remembers that the UV Flatbed Printer should be well maintained. In addition, in the new year, refinecolor also introduced benefits, and the purchase discount is constant. For details, please consult online customer service.